Apple and Marc Newson: when fashion and tech collide
Apple has hired fashion-forward industrial designer Marc Newson, and is inviting fashion bloggers to its event tomorrow. There's a pretty clear picture building…
I really tried to swear off writing about tomorrow's Apple event in advance, I rearly did.
But a couple of bits of news are just fascinating. The first is this:
Designer Marc Newson is joining Apple as part of senior vice president of design Jonathan Ive's team, the company told VF Daily on Friday.

Newson, who will continue to be based in the United Kingdom, will be an employee of Apple, and will be frequently traveling to the company's Cupertino, California, headquarters. The industrial designer has had his work archived by MoMA, and has been commissioned by Ford, Nike, and Qantas Airways, among others.
This is a new hire who already has a Wikipedia entry:
Marc Andrew Newson CBE (born 20 October 1963) is an industrial designer who works in aircraft design, product design, furniture design, jewellery, and clothing. He incorporates a design style known as biomorphism to his various designs.
So, we have a new Apple designer whose background is in luxury and style. And the story was broken in style magazine Vanity Fair. It's pretty safe to assume that he's not going to be working on new MacBooks.
The Fashion Blogerati are summoned…
This comes hard on the heels of this news:
Apple Inc has invited top fashion editors and bloggers in unprecedented numbers to its Tuesday launch gala, further evidence that the iPhone maker is preparing to take the wraps off a smartwatch.
So, whatever Apple is launching tomorrow has as much relevance to the fashion world as it dos to the tech world. On one hand, that's just indicative of how the world of technology is blurring into every field now. On the other, it's very clear that very specifically something tomorrow is going to be of great interest to people who follow fashion.
The hype clock
Oh, and Apple are so excited about this event they have a countdown clock running: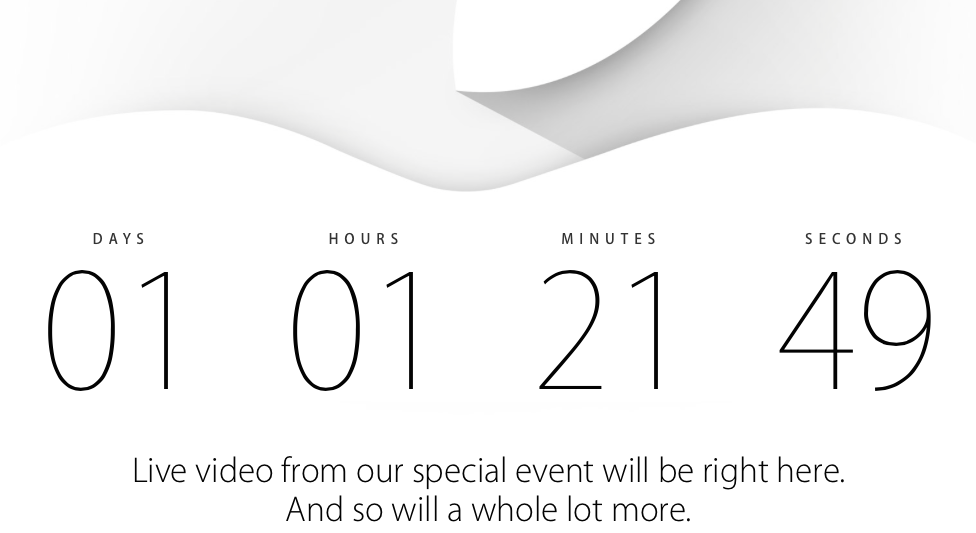 This is not the Apple we've know of old. They're strategically (and clearly) dropping pieces of information about what's coming in advance of the event, rather than just staying silent and letting the event speak for itself. That information is signalling that this is a different announcement, with the strong fashion links. That, too, helps differentiate Apple from its competitors with messaging that they're thinking about more than just the tech appeal, but also style appeal.
Oh, and many people believe that true creativity happens when one discipline steals from another that's a long way removed from itself. Given fashion's recent hires – is Apple about to create something that's fashion and tech stealing from easy other?
There's no guarantee that whatever Apple launches tomorrow will be a success. Past performance is not a reliable indicator of future performance, blah, blah, blah.
But it's sure as hell going to be a interesting show, isn't it?
Photo of Marc Newson by the *Financial TImes and used under a Creative Commons licence*