NEXT16: Tamara Gaffney – Getting ahead of the future with data
Tamara reads the future in today's data. And her son reads it in his own habits. They both share their insights.
Warning: Liveblogging. Prone to error, inaccuracy and horrible abuses of grammar and syntax. Post will be improved over the next 24 hours
Tamara Gaffney, Adobe Systems
Consumer preferences are fundamentally changing. An in understanding that, data is not a lead actor. It's the scene, the setting, the backdrop.
First of all, Pokémon Go. It came from nowhere and generated a 227% increase in merchandise. People want to combine the digital and physical. There's no real difference.
People want to spend less time on routine tasks. They went to get onto the fun things quicker. And they want to get away form crowds. The growth in holidays is in camping and nature and getting a way from it all.
The new face of entertainment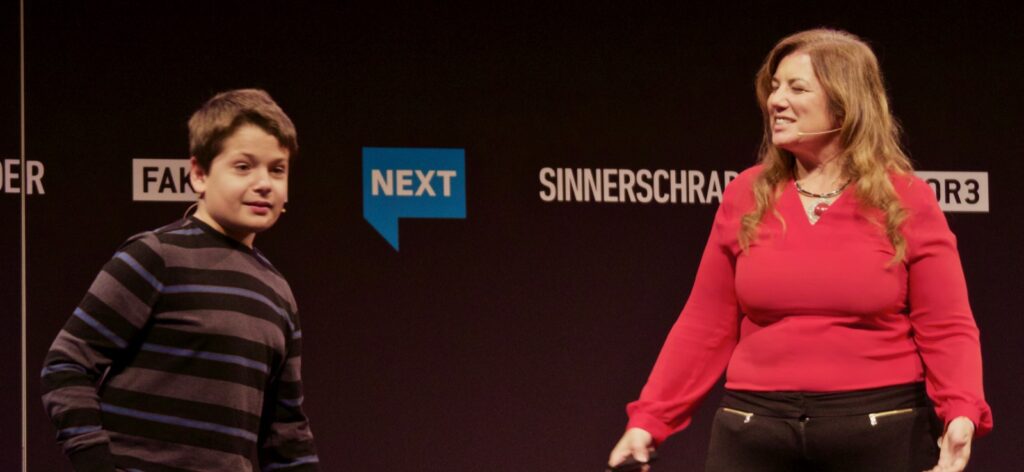 HTC Vive has seen a 2194% increase in mentions in the last nine months. 9 year olds – like her son Lincoln are looking forward to it. They want to watch videos and play games. They use YouTube to watch the videos – because there's more fresh, relevant content for them there than on TV. Lincoln likes the diamond minecart, for example. eSports is a huge business – and an entertainment games.
People are more interested in experiences than acquiring possessions – especially possessions that you have to maintain, like cars. You won't be selling products or services, but experiences.
Health is the platform for our experiences. People will self-diagnose on their mobiles, because it's easy. And mobiles are growing fast. Mobile traffic will be dominant in Europe by early 2017.
The shrinking web
The web is not growing – it's shrinking. They're not using mobile and desktop. They're switching to mobile, so website visits are decreasing. Applications are growing instead. Media apps are always almost always sued in wifi mode. People don't won't routine lives, and mobile facilitates that. But there are problems. Mobile is still slow. Mobile isn't great for people with sight problems – many apps don't zoom. Despite this, sales of desktop computers and TVs are dropping. And it's worse in the UK post-Brexit.
The revenue opportunity on mobile is hard. People don't browse, they snipe. They target what they want, and grab it. And getting browsing traffic is now pay to play via advertising. Everyone is over 50% paid now in Europe. Half of sites in Europe are growing, and 50% shrinking. You eat lunch or you be lunch. The sites that are growing are likely to be growing because of a social presence. So deal with paid. And deal with organic – which is always changing.
Screen blocking ads on mobile annoy. People back out – or install ad blockers. That sort of advertising is dying. People don't want auto-play ads. Video is cool, engaging and fun. But auto-play video ads are annoying. Content is the thing.
The internet of essential, but unreliable, things
The internet of things is going to set high expectations. The Lully Sleep Guardian could be essential for new parents. She uses a smart water bottle which tells her how much water she's drinking – and reminds her when she isn't drinking enough. It's something she's coming to rely on. And it's great – until it fails. And what do we do about that? Well, the future is going to be bumpy, but really fun.
It's scary, but it's exciting.